About: Instructor Alli Hughes

Alli shares,
"I strive to bring others closer to their goals, help them face their challenges, and explore new things. I like to do this in an outdoor setting because I believe there is power in your surroundings. The outdoors has a way of igniting passions and soothing souls. Laird Hamilton stated that 'A little adrenaline a day keeps the boredom away,' and I like to practice what my mentor teaches. By practicing and learning new skills, whether they are a new sport skill or wilderness first aid training, use that adrenaline from practicing to keep you sharp! Meet me outside and letís go on an adventure!"
Adventure Leadership Experience
Old Dominion University

Outdoor Adventure Program Trip Leader & Trip Manager

Morale and Wellness Recreation

Fort Belvoir Outdoor Program & Archery/Hunting Services

University of Central Florida

Outdoor Adventure Program Graduate Assistant to include trips, Odyssey III challenge course, rental facilities and lake rental facilities

University of Tennessee at Chattanooga

Coordinator of Outdoor Programming
Adjunct Faculty for the Health and Human Performance Department; courses include Bike Touring, Mountain Biking, Rock Climbing & Rappelling & Stand Up Paddle boarding

International Travel
Austria, the Bahamas, Belgium, Canada, Costa Rica, England, France, Germany, Haiti, Ireland, Italy, Mexico, Morocco, Puerto Rico, St. Kitts & Nevis, and Spain.
Certifications
Wilderness First Responder & CPR
CPR/FA/AED Instructor ~ American Red Cross
Swift Water Rescue ~ American Canoe Association
Stand Up Paddleboard Level 1 & 2 Instructor ~ American Canoe Association
Leave No Trace Instructor

Education in Outdoor Education and Leadership
Master of Higher Education; Personnel Leadership
Bachelor of Science in Park and Recreation Tourism Management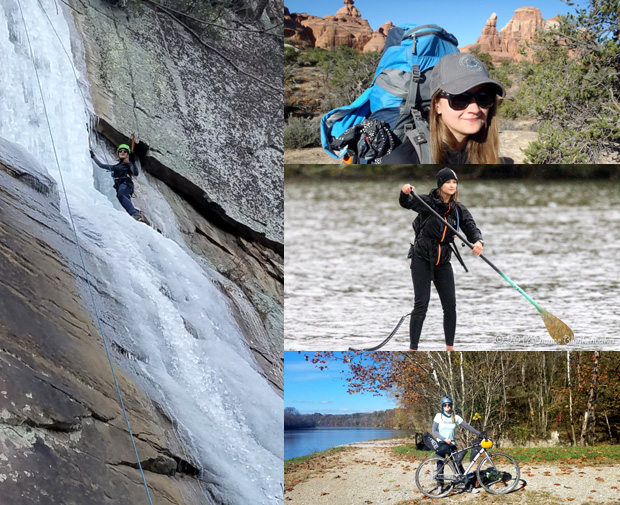 .
Calendar
Subscribe to be notified of newly-scheduled classes
Feb. 3 - 4, 2018:
Nashville, TN
Feb. 17-18:
Richmond, VA area
Mar. 3 - 4:
Fort Collins, CO
Huntington, WV /
Ashland, KY area
Mar. 10-11:
Colorado Sprngs CO
Lexington, VA
Mar. 17-18:
Boulder, CO
Charlottesville, VA
Mar. 24-25:
Cincinnati, OH
Grand Junction, CO
Triangle area, NC
Apr. 7 - 8:
Blacksburg, VA
Chattanooga, TN
Portland, OR
Spruce Knob, WV
Apr. 14-15:
Bend, OR
Columbus, OH
Apr. 21-22:
Denver, CO
Charleston, WV
Virginia Beach area
Apr. 28-29:
Charlottesville, VA
May 5 - 6:
Washington, DC
May 12-13:
Dayton, OH
Greensboro, NC
Wilmington, NC
May 16-17:
Charlottesville, VA
May 19-20:
Birmingham, AL
Roanoke, VA
May 26-27 or 28:
Charlottesville, VA
Old Fields, WV
June 2 - 3:
Nashville, TN
Richmond, VA
June 9-10:
Indianapolis, IN
Montgomery, AL
June 16-17:
Triangle area, NC
Richmond, KY /
Lexington, KY area
June 23-24:
Charlotte, NC
Huntsville, AL
Fredericksburg, VA
June 30 - July 1:
Atlanta /
Marietta, GA area
July 14-15:
Charlottesville, VA
July 28-29:
Uwharrie, NC
Sep. 1-3: Mtn-top retreat
near Blacksburg, VA
Sep. 15-16: Advanced
WFA Part II (upgrade)
Old Fields, WV