About: Instructor Dallas Branum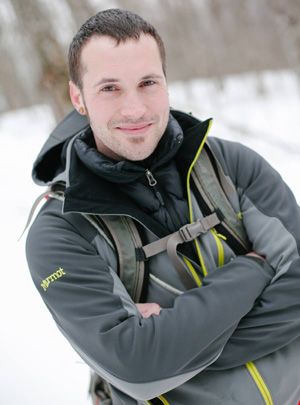 Backcountry Emergency Medical Experience
As a Lead Instructor with the Colorado Outward Bound School, I spend the majority of my summers leading backpacking and mountaineering courses deep in the wilderness of the Rocky Mountains. Acting as a backcountry doctor for my students gives me firsthand experience taking care of myriad wounds, illnesses, injuries, and medical emergencies. Additionally, I taught SCUBA in the frigid waters off the Oregon Coast for several years, giving me further experience with diving medical emergencies and decompression illness. In short, I practice what I preach; all the skills and topics covered in the Disaster + Travel + Wilderness First Aid Courses are concepts I have routinely practiced in the field while far from definitive medical care.
Adventure Leadership Experience
Colorado Outward Bound School

Iíve been instructing with COBS since May of 2015, leading mountaineering, backpacking, and climbing courses throughout the Colorado Rockies.

Outdoor Adventure Social Club

In two years, I led a total of 72 outdoor adventures, including: rock climbing, caving/spelunking, backpacking, cascading, and hiking.

Building Goodness Foundation

University of Oregon Outdoor Pursuits Program

Lane Community College SCUBA Program

I taught with the LCC Dive Program for nearly 5 years.

Iíve logged over 1 month teaching underwater with students.
Personal Outdoor Achievements
Iíve been climbing since 2004, and have summited rocks and mountains in 16 states and 7 different countries, putting up numerous first ascents in Colorado and across the west.

Technical Mountaineering: Mt. Rainier (winter ascent,) Mt. Hood (winter ascent,) Dozens of couloirs and technical summits in the Sawatch and San Juans of Colorado, Mt. St. Helens (winter ascent,) Cotopaxi, Volcan Concepcion, and Chimborazo.
International Travel
Iíve Guided trips in:
South America: Peru, Ecuador, Bolivia, Colombia

Central America: Guatemala, Nicaragua

Caribbean: Puerto Rico, Haiti

North America:

Canada: British Columbia

USA: Oregon, Washington, California, Nevada, Utah, Idaho, Montana, Colorado, West Virginia, Virginia, North Carolina, South Carolina, Georgia, Maryland, Pennsylvania, New York, New Hampshire
Certifications & Education
Wilderness First Responder

American Heart Association Basic Life Support

Disaster + Travel + Wilderness First Aid Instructor

AMGA Single Pitch Instructor

AIARE Avalanche Level 1

Outward Bound Educational Framework, Alpine Skills, and Instructor Training

Leave No Trace Instructor

PADI Divemaster

University or Oregon - International Studies: Peace Studies, Human Rights, and Conflict Resolution in Latin America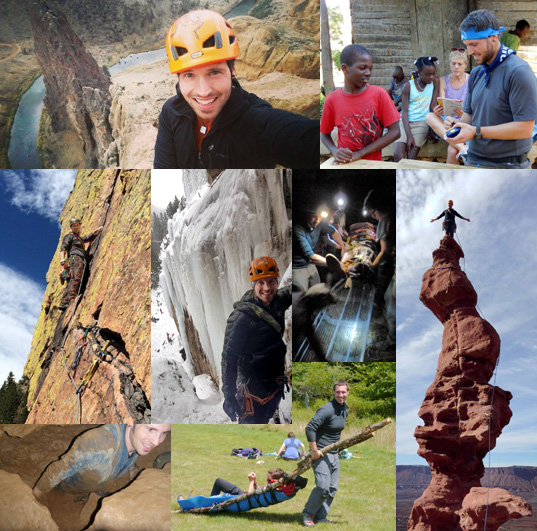 .
Calendar
Subscribe to be notified of newly-scheduled classes
Feb. 3 - 4, 2018:
Nashville, TN
Feb. 17-18:
Richmond, VA area
Mar. 3 - 4:
Fort Collins, CO
Huntington, WV /
Ashland, KY area
Mar. 10-11:
Colorado Sprngs CO
Lexington, VA
Mar. 17-18:
Boulder, CO
Charlottesville, VA
Mar. 24-25:
Cincinnati, OH
Grand Junction, CO
Triangle area, NC
Apr. 7 - 8:
Blacksburg, VA
Chattanooga, TN
Portland, OR
Spruce Knob, WV
Apr. 14-15:
Bend, OR
Columbus, OH
Apr. 21-22:
Denver, CO
Charleston, WV
Virginia Beach area
Apr. 28-29:
Charlottesville, VA
May 5 - 6:
Washington, DC
May 12-13:
Dayton, OH
Greensboro, NC
Wilmington, NC
May 16-17:
Charlottesville, VA
May 19-20:
Birmingham, AL
Roanoke, VA
May 26-27 or 28:
Charlottesville, VA
Old Fields, WV
June 2 - 3:
Nashville, TN
Richmond, VA
June 9-10:
Indianapolis, IN
Montgomery, AL
June 16-17:
Triangle area, NC
Richmond, KY /
Lexington, KY area
June 23-24:
Charlotte, NC
Huntsville, AL
Fredericksburg, VA
June 30 - July 1:
Atlanta /
Marietta, GA area
July 14-15:
Charlottesville, VA
July 28-29:
Uwharrie, NC
Sep. 1-3: Mtn-top retreat
near Blacksburg, VA
Sep. 15-16: Advanced
WFA Part II (upgrade)
Old Fields, WV