About: Instructor Jeff Imel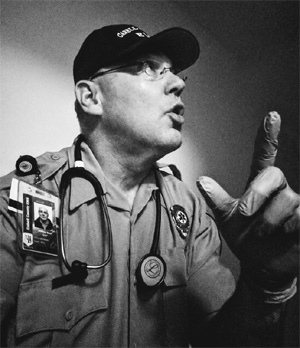 Rural Emergency Medical Experience
Jeff

practices pre-hospital emergency medicine as a part-time volunteer Emergency Medical Technician, operating in the rural areas of West Virginia. West Virginia mountains and waterways attract a great deal of adventure tourism, and Jeff has the opportunity to practice what he teaches in class most very week. He has performed real-world CPR, utilized the Heimlich maneuver on a few occasions, treated numerous bone fractures, burns, bites, stings, bleeding, infections (local and systemic), heat and cardiac illnesses, allergic reactions and airway obstructions -- all of the topics that he teaches in his classes. Working as an EMT greatly enhances Jeff's instructorship, and enables him to bring real-world

experience

into the classroom

.
Outdoor Adventure
Hiker
Kayaker
Mountain biker
4WD/off road enthusiast
Hunter: turkey and deer
Four-season camper
Travel
Australia, Brazil, Canada, Japan, Korea, Mexico
Most of Western Europe
47 of the 50 United States
Certifications & Education
Wilderness Emergency Medical Technician (WEMT)
Emergency Medical Technician (EMT) - Licensed West Virginia
National Registry Emergency Medical Technician (NREMT)
Certified Emergency Medical Services Instructor (NFPA 1041 Level II)
Disaster + Travel + Wilderness First Aid Instructor
Prehospital Trauma Life Support (NAEMT PHTLS)
Tactical Emergency Casualty Care
American Heart Association Basic Life Support for Healthcare Providers
FEMA IS-00700.a National Incident Management System (NIMS)
FEMA IS-00100.b Introduction to Incident Command System
OSHA Hazardous Materials Response - Awareness Level
S.T.A.B.L.E. Basic Life Support for Children
Emergency Medical Vehicle Operator
United States Marine Corps (8 Years - Sergeant E-5)
Tactical Data Systems Senior Instructor - United States Marine Corps
University of Maryland, Bachelor of Science in Electrical Engineering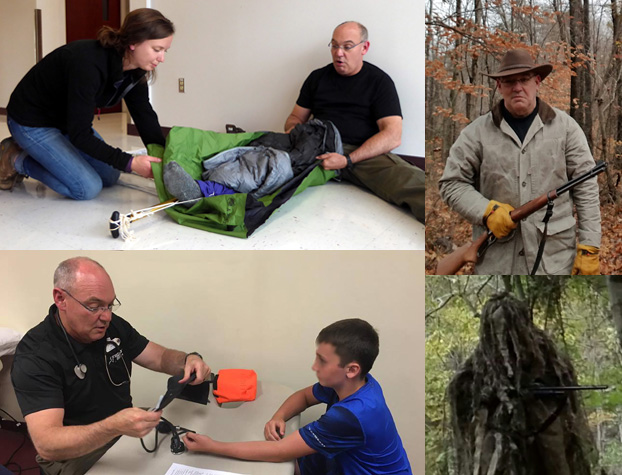 .
Calendar
Subscribe to be notified of newly-scheduled classes
Feb. 3 - 4, 2018:
Nashville, TN
Feb. 17-18:
Richmond, VA area
Mar. 3 - 4:
Fort Collins, CO
Huntington, WV /
Ashland, KY area
Mar. 10-11:
Colorado Sprngs CO
Lexington, VA
Mar. 17-18:
Boulder, CO
Charlottesville, VA
Mar. 24-25:
Cincinnati, OH
Grand Junction, CO
Triangle area, NC
Apr. 7 - 8:
Blacksburg, VA
Chattanooga, TN
Portland, OR
Spruce Knob, WV
Apr. 14-15:
Bend, OR
Columbus, OH
Apr. 21-22:
Denver, CO
Charleston, WV
Virginia Beach area
Apr. 28-29:
Charlottesville, VA
May 5 - 6:
Washington, DC
May 12-13:
Dayton, OH
Greensboro, NC
Wilmington, NC
May 16-17:
Charlottesville, VA
May 19-20:
Birmingham, AL
Roanoke, VA
May 26-27 or 28:
Charlottesville, VA
Old Fields, WV
June 2 - 3:
Nashville, TN
Richmond, VA
June 9-10:
Indianapolis, IN
Montgomery, AL
June 16-17:
Triangle area, NC
Richmond, KY /
Lexington, KY area
June 23-24:
Charlotte, NC
Huntsville, AL
Fredericksburg, VA
June 30 - July 1:
Atlanta /
Marietta, GA area
July 14-15:
Charlottesville, VA
July 28-29:
Uwharrie, NC
Sep. 1-3: Mtn-top retreat
near Blacksburg, VA
Sep. 15-16: Advanced
WFA Part II (upgrade)
Old Fields, WV