MEDIC SOLO Disaster + Travel + Wilderness First Aid Certification Course
Anonymous Student Feedback Surveys & Emails
Course + Instructor Combined Feedback
>> Did the course meet your expectations? "Absolutely 100%! Very clear explanations, logical flow of presentation of material, moved through book material at brisk but manageable pace. Covered many types of injuries + conditions, from the very minor to life-threatening. Lots of scenarios to force us to apply our learning + think on our feet. P.S. I LOVE that you don't use PowerPoint! Matt was fabulous! Very knowledgeable, lots of real-world experience. Designed scenarios that tested us but were do-able with our knowledge. ... Good sense of humor!" April 2013
>> "The amount of information I learned in two days was astounding. Matt did a great job explaining complex information so I could understand." September 2012
>> "Best out of the 3 WFA courses I've taken! Very generous person, so warm, thank you." June 2014
>> "As a professional educator, this was one of the best courses I've seen -- organization, content, presentation, activities, time management, stories, acronyms. A+++!" January 2016
>> "Instructor was super-knowledgeable, attentive, engaging, entertaining, informative! Had a great command of the info & taught thoroughly. Combo of classroom & hands-on practice was excellent." June 2014
>> "Matt what light years better than a PowerPoint Presentation." August 2014
>> "Beyond expectations. It was an extremely well-taught course using experiential learning that will transfer to actual use if ever needed." April 2011
>> "The as-close-to-real life as possible scenarios were awesome. They made me feel nervous and under pressure, which was a good thing. The mix of classroom teaching followed by practical learning was good too. ... Matt was great! ... His sense of humor made me feel relaxed, but he was also good at putting pressure on us to do our best in the scenarios." January 2016
>> Anonymous feedback surveys look like the following:
(actual example below is from September 2015)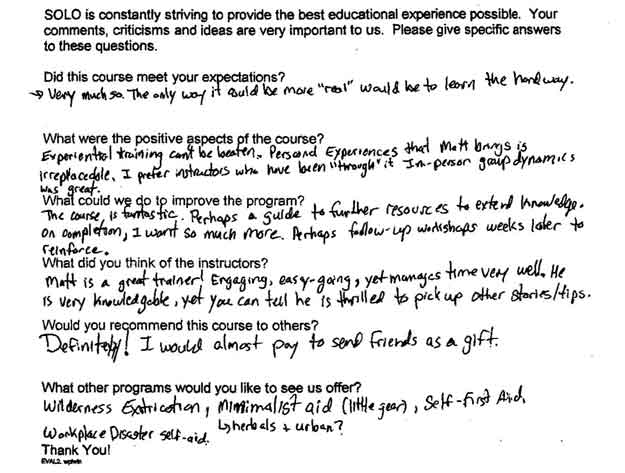 >> "Thanks for the excellent instruction. I can't remember the last time I had so much fun being treated for a 3rd degree burn, hypothermia, a broken leg, and a severe allergy reaction all in one day. Good times! " -- email from Suzanne Luna, 3/20/2016
>> "It was extremely helpful that the concepts & reasons for treatment were explained (i.e. -- why the blood vessels dilate, etc.). It made it more interesting and easy to remember." March 2015
>> "Although it was a lot of material to cover in 2 days, Matt's pace was excellent -- I never felt overwhelmed and he allowed enough time to practice our learnings to drive it home and discuss the exercise." October 2012
>> "Informative, concise, well-taught, cheap!" May 2012
>> [Feedback survey question: What could we do to improve the program?] "Nothing I can think of. I know that's not helpful. I actually spent 5 minutes trying to come up with something." May 2016
>> "Exceeded my expectations. The class was fast paced, interactive and lots of fun! I was worried that the class periods would be too long to stay engaged, but it was terrific!" February 2012

>> "Tremendous amount of information provided with an intelligent curriculum and outstanding teaching." April 2011
>> "All of the scenarios were awesome, and feeling free to ask questions / offer stories was great ... [Matt] makes it really fun. The scenarios seemed pretty real." December 2012
>> "Awesome job explaining why the body does what it does so I would understand much better." May 2014
>> "Very comfortable learning environment, even for a shy/timid person. Packed full of learning, plus many valuable hands-on learning opportunities ... [Matt's] the best: very knowledgeable, engaging, likeable, approachable, open to questions, kind, enthusiastic." October 2013
>> "Excellent knowledge, great presentation skills, nice mix of classroom & practical application / hands-on." March 2011
>> "I feel incredibly empowered by just 2 days of instruction, and I am aware of new practices I'll institute in the wilderness. ... Matt, the teacher, was extremely knowledgeable and professional as well as approachable and kind. I loved the location (Ivy Creek [Natural Area]) as well as the integration of classroom and scenarios." October 2007
>> Anonymous feedback surveys look like the following:
(actual example below is from March 2016)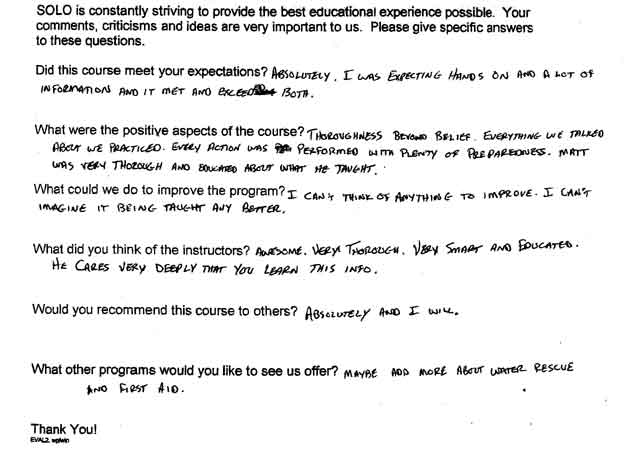 >> "I actually learned more than I thought I would ... I appreciated the depth of physiological mechanisms that were taught as to help think logically through problems ... Matt was a great instructor ... If you do anything outdoors, this is a great course to have. " January 2008
>> "We had ample practical experience running scenarios that incorporated the classroom lecture / notes well. ... Above all, Matt's sense of timing / humor & flexibility when working with such breadth of curriculum & limited time is exemplary. ... Enjoyed not only the content & instructor of the WFA class, but [also] our extracurricular learning & the opportunity to meet amazing, like-minded" people. July 2007
>> Did the course meet your expectations? "Better than expected, actually ... I loved the scenarios ... Matt was awesome! -- presented info in an interesting & manageable way, told stories, let group tell stories too ... It's great to learn something so useful in such a fun way!" January 2008
>> "Good flow, not too fast / slow, Matt was an awesome instructor, lots of good stories / explanations for why things happen." April 2012
>> "Very hands-on, good mix of lectures with hands-on scenarios. Matt's a very thorough, patient teacher." May 2010
>> "Matt is an excellent instructor. He's laid back, yet eager to give help and offer good judgment ... It's an excellent course to streamline your first aid kit and learn new uses for common backpacking equipment. Amazing!" January 2008
>> "I recommend that WFA be the minimum course level required by all SAR (Search and Rescue) personnel ... [Matt] not only knows the subject matter but how to effectively convey the information and motivate his students." April 2008
>> "Wish I had done this last year (or 30 years ago!)" October 2009
>> "It was even better the second time around." January 2013
>> Anonymous feedback surveys look like the following:
(actual example below is from June 2015)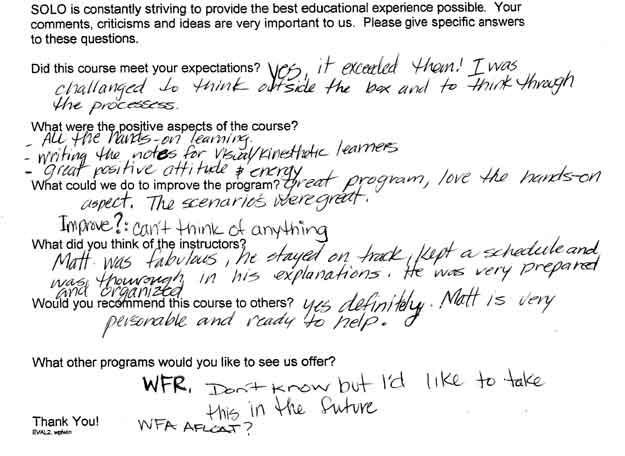 >> "Altering the course of natural selection." April 2011
[Matt commentary: what a cleverly insightful feedback comment! Indeed what one learns in this class empowers one to save the lives of people whose actions qualify for the Darwin award.]
.
Calendar
Subscribe to be notified of newly-scheduled classes
Jan. 6 - 7, 2018:
Charlottesville, VA
Jan. 13-14:
Norfolk, VA
Washington, DC
Jan. 27-28:
Chattanooga, TN
Harrisonburg, VA
Feb. 3 - 4:
Nashville, TN
Feb. 17-18:
Richmond, VA area
Mar. 3 - 4:
Fort Collins, CO
Huntington, WV /
Ashland, KY area
Mar. 10-11:
Colorado Sprngs CO
Lexington, VA
Mar. 17-18:
Boulder, CO
Charlottesville, VA
Mar. 24-25:
Cincinnati, OH
Grand Junction, CO
Triangle area, NC
Apr. 7 - 8:
Blacksburg, VA
Chattanooga, TN
Portland, OR
Spruce Knob, WV
Apr. 14-15:
Bend, OR
Columbus, OH
Apr. 21-22:
Denver, CO
Charleston, WV
Virginia Beach area
Apr. 28-29:
Charlottesville, VA
May 5 - 6:
Washington, DC
May 12-13:
Dayton, OH
Greensboro, NC
Wilmington, NC
May 16-17:
Charlottesville, VA
May 19-20:
Birmingham, AL
Roanoke, VA
May 26-27 or 28:
Charlottesville, VA
Old Fields, WV
June 2 - 3:
Nashville, TN
Richmond, VA
June 9-10:
Indianapolis, IN
Montgomery, AL
June 16-17:
Triangle area, NC
Richmond, KY /
Lexington, KY area
June 23-24:
Charlotte, NC
Huntsville, AL
Fredericksburg, VA
June 30 - July 1:
Atlanta /
Marietta, GA area
July 14-15:
Charlottesville, VA
July 28-29:
Uwharrie, NC
Sep. 1-3: Mtn-top retreat
near Blacksburg, VA